Pietenpol 90th Anniversary Poster
12" x 14" full color, printed on heavy stock and suitable for framing. Original artwork by Bill Weeden celebrates the 90th anniversary of the first flight of Bernard Pietenpol's first Aircamper in 1929. $7.00 post paid U.S. – $10.00 International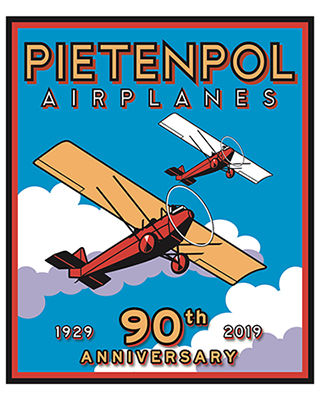 U.S orders click here:
International Orders click here:
Order online below or mail your check to:
BPA P.O. Box 304
Brodhead, WI 53520
2019 Weight & Balance Manual $20 + shipping
by William Wynne – With the assistance of a number of people from the Pietenpol community, We now have all of the original weight and balance studies compiled into a single volume. This is not just a reprint of those original articles. Those have been available for several years. In this 2019 Weight and Balance Manual, the information has been brought up to date with new articles, explanations, photos, and real world examples. It is 60 pages of very good data. Proceeds benefit the Brodhead Pietenpol Association.